How to register on Bit.Team?
Welcome to the BitTeam cryptocurrency platform.
We'll start with registration. First of all, click "Login" in the upper right corner.
In the pop-up window on the right, you should enter your e-mail address and then press the "Register" button.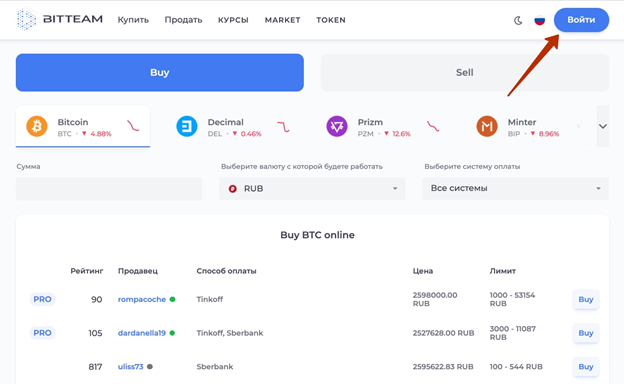 An e-mail has been sent to your e-mail address.
Enter your e-mail box, open it and press the "Confirm" button to verify your e-mail address.
The button will return you to the bit.team page.
To complete registration, fill in all fields:
- region (the system detects automatically)
- username/username (come up with one. This is the name that will be reflected in your personal profile. Exactly it will be seen by other users of the site - sellers and buyers - in transactions).
- password. Try to use complex combinations. Do not forget about security measures.
- repeat the password
And at the end, click "Save".
Congratulations, you became a part of bit.team project!
Welcome!
Create ads for buying/selling currencies on the BitTeam platform. Want to buy theatre tickets for the script? Or do you want to sell your car? Easy! You can even open your own shop at our Market Place!
Have a good shopping and productive trading on the bit.team platform! And if you have any questions left, please feel free to ask [email protected].


Created -
February 11, 2023 2:45 PM
Updated -
February 13, 2023 4:52 PM