By default, when registering, you will need to confirm your email. But in order to fully use the Bit.Team platform, for example, to create your own ad for the purchase or sale of cryptocurrency, you need to confirm your phone number.
To do this, click on the menu icon on the main page of the site, select a profile and go to the verification item.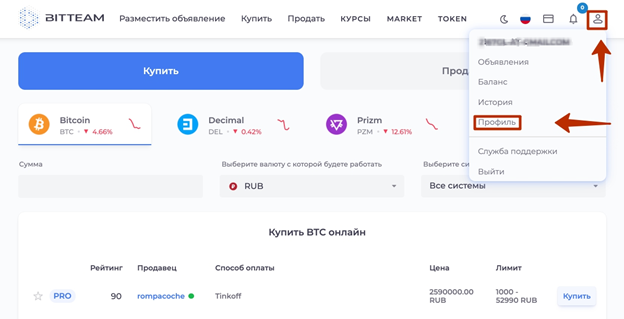 Here, enter your phone number and confirm with the code that you will receive via SMS. Completed verification by email and phone will allow you to fully trade on the site. But in order to use the acquiring function and buy cryptocurrency from service partners through a bank card, you need to go through KYC verification by documents.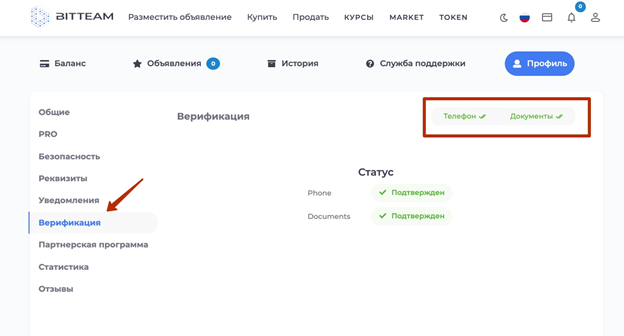 To do this, it is necessary at the same point of verification in the profile to upload a passport photo in an expanded form, on which the letters are clearly visible, there are no glare and all the corners of the document are visible. You can do this through your phone for convenience by scanning the specified QR code.
After uploading the document, you need to take a selfie, which can also be taken via a mobile phone. Note that there is a help link for launching your camera. Go through the necessary points in the photo and click "Next step".
Documents are checked automatically using artificial intelligence. This usually takes one to three minutes. If the system is not satisfied with your photos, it will notify you about it. Upload new ones and give your attention to the quality of the photo. After passing the verification, you will receive a notification, and you will also see a confirmation in your profile.
Created -
February 11, 2023 5:06 PM
Updated -
February 16, 2023 4:50 PM